Coronavirus (COVID-19)
The health and safety of Australians overseas is our highest priority.
If you have not already done so, please send your details to the Australian High Commission in Abuja. This enables us to contact you should the need arise.
Please send an email to [email protected] with the following information:
Full name (as per passport)
Date of birth
Passport number
Phone number
Email address
Current location (city, country)
Full address (if hotel, please provide full address, phone number and room number)
Your citizenship details (citizen, permanent resident)
Name and contact details for Australian family member based in Australia who we can contact in the event of an emergency
Interest in returning to Australia
Due to the COVID-19 pandemic, our ability to provide some services may be limited. We will continue to prioritise consular services to those in genuine need. If you require urgent assistance, please contact our Consular Emergency Centre, Canberra (Australia): +61 2 6261 3305.
High Commissioner's message
Welcome to the website of the Australian High Commission, Abuja.
The High Commission has responsibility for Australia's relations with Nigeria, Niger, Cameroon, Gabon, Benin, The Gambia and the Economic Community of West African States (ECOWAS).
Australia and Nigeria have a long history of bilateral relations and enjoy a strong relationship with deepening trade, investment and people to people links. I look forward to working with my Nigerian counterparts to continue to advance the bilateral relationship and will take regular opportunities to visit different regions of Nigeria. We are committed also to supporting the growth of ties between Australia and our countries of accreditations who also form part of this diverse and dynamic region.
You can follow the work of the High Commission through the regular updates on our Facebook page and our Twitter handle. If you are an Australian travelling in the region, please visit www.smartraveller.gov.au for the latest travel advice and subscribe to updates.
As they say in Nigeria, you are welcome.
Claire Ireland
High Commissioner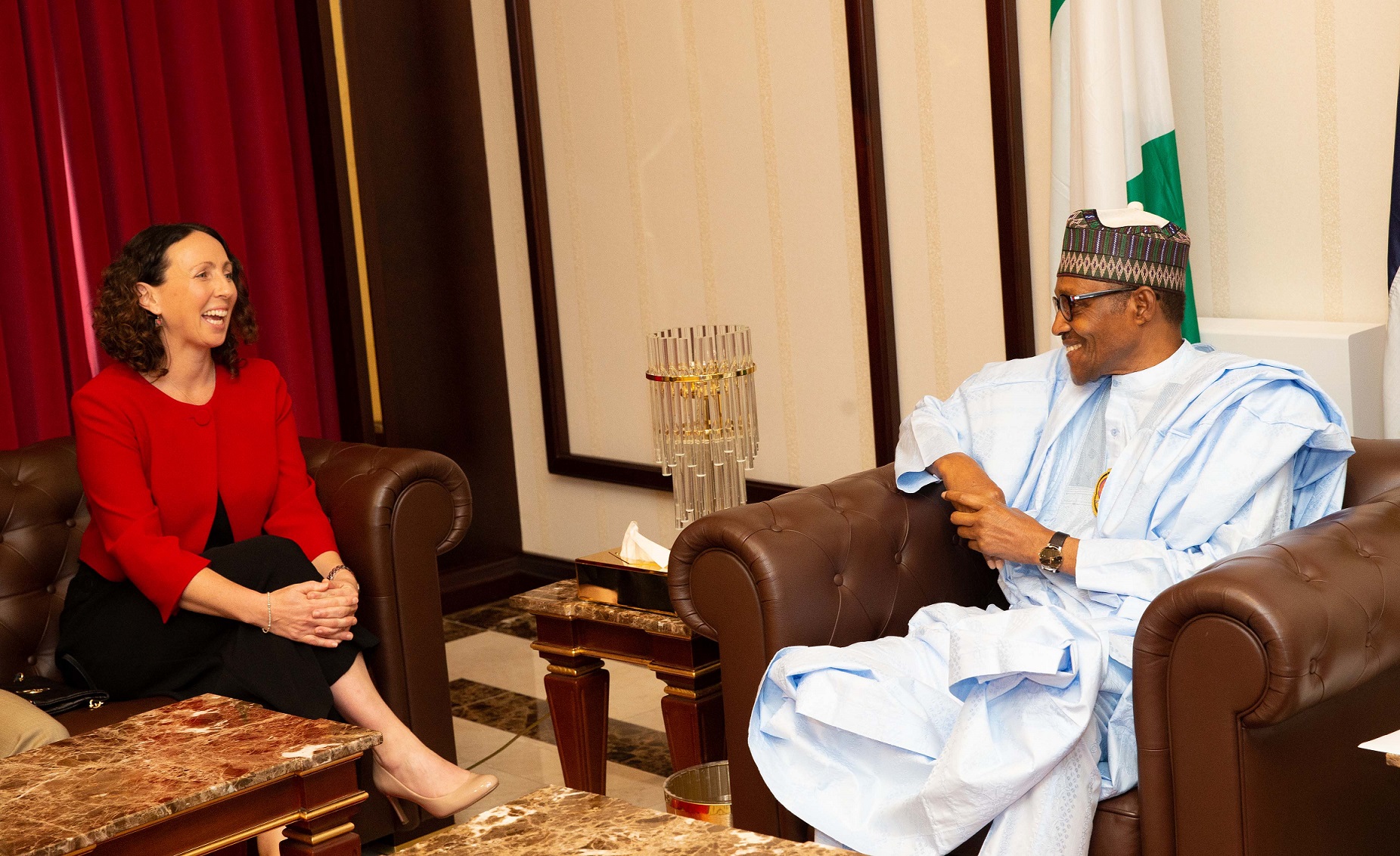 Australian High Commissioner Claire Ireland with President Muhammadu Buhari
Mission Statement
Our mission is to promote and protect Australian interests, positions and values through friendly relations and deeper understanding with Nigeria and countries of accreditation, by:
- Forging strong and flexible partnerships that value people and demonstrate inclusiveness;
- Advocating and collaborating with partners to achieve foreign policy, trade and development outcomes;
- Delivering exemplary consular services to protect the welfare of Australians overseas;
- Sharing information about each other's countries, cultures and economies through focused public diplomacy; and
- Promoting mutually beneficial trade and investment opportunities.
Visas
The Australian High Commission cannot answer visa or immigration enquiries. Further information on visas is provided on the Travelling to Australia web page solely to help you identify the correct contact point.
Consular assistance
Smartraveller information - COVID-19 updates
If you are an Australian citizen with a consular or passport inquiry, the Australian High Commission can be contacted via email at [email protected] or on +234 (0) 9460 6960 (during business hours).
For urgent consular assistance, please contact the Australian 24-hour consular emergency centre in Canberra on: +61 2 6261 3305.
Smartraveller has the latest, authoritative travel advice so you can be informed and prepared about overseas travel. Subscribe to receive travel advice updates - by simply supplying your name and email address – straight to your inbox.
You can now also subscribe to the new SMS service - by supplying your mobile number – to receive critical alerts in the event of a crisis overseas.
In a crisis, Smartraveller will activate a crisis page on its website. It will make it easier for you or someone you know to contact the Australian Government if you need help. It will supplement the consular emergency hotline.
Visit www.smartraveller.gov.au to subscribe or connect with Smartraveller on Facebook and Twitter.
Travel advice for Nigeria can be found here.
Scam Alert
It has come to the attention of the Australian government that there has been a recent spate of scams targeting citizens of West African countries offering false offers of employment and visas to Australia. These scams are run by criminal gangs and will only steal your money by fraud. There is no job and there is no visa.
No Australian Diplomat or Australian Border Force Special Agent will contact you offering jobs or visas. Legitimate Australian Government border related email addresses end with @dfat.gov.au or @border.gov.au. Anything that contains a .net or a .com or anything else is a scam.
Report suspected fraud to: [email protected] or [email protected] Any information you provide will be treated confidentially.
Should you believe that you are the victim of a scam, you should report it to your local police and you may also wish to report it via the Australian Competition and Consumer Commission's Scamwatch website.
In order to protect yourself from visa scams, you should only deal with official Australian Government channels such as the departmental website, reputable travel agents, Australian Visa Application Centres, or the Australian High Commission or Embassy in your country.
Further information on scams can be found on our Information on Scams page.